Modular Fabrication Services
M. Davis & Sons offers end-to-end, turnkey modular solutions to optimize your operations and allow for maximum efficiency and time savings. Our trade experts and engineers provide innovative solutions that meet our customers' needs now and into the future.
Modular skids offer a lower cost model and a more efficient schedule.
Our team builds, assembles, integrates, powers, and tests your skids in our fabrication spaces that total over 90,000 square feet, and ships the entire finished skid to your facility. This means you don't have to worry about disruptions to your current plant operations. And, because all quality control and factory acceptance testing is completed at our location, any start-up problems are identified and solved before it's shipped — so you can get up and running faster!
M.Davis is a One Source for All service provider. This includes all the pumps, heat exchangers, controls and automation valves, instrumentation, and control panels needed to bring your skid to life. With both mechanical and electrical tradespeople, we can manage the design, fabrication, and testing of your skid for maximum efficiency.
Plus, modular skids offer greater portability. Each skid can be designed within a frame that can be moved to your location as a single piece of equipment. We also fabricate multi-skid units that work together — creating a full process-system in self-contained components.
If you can dream it, M. Davis can design, build and deliver it.
The Modular Fabrication Process in Action
When DuPont needed to update their antiquated cooling towers on a compressed timeline, they turned to our experts to design, build and ship brand new cooling towers to their facility — all in a six-month time frame. This video guides you through the entire project, from conception to installation.
The History of M.Davis and Modular Fabrication
At M. Davis we have always been conscious of changes in the many industries we support, and our own critical and ongoing need to be open to change and stay at the forefront of innovation and technology. In the past several years there has been a push toward modular fabrication and away from stick-built field services.
One of our longtime customers, Air Liquide, came to us with a design to modularize and chose us as their partner to develop their technology and design a solution to make their process more efficient. We quickly realized we already had the people, trades, and skills needed to support modular services, including the automation and controls that some companies lack.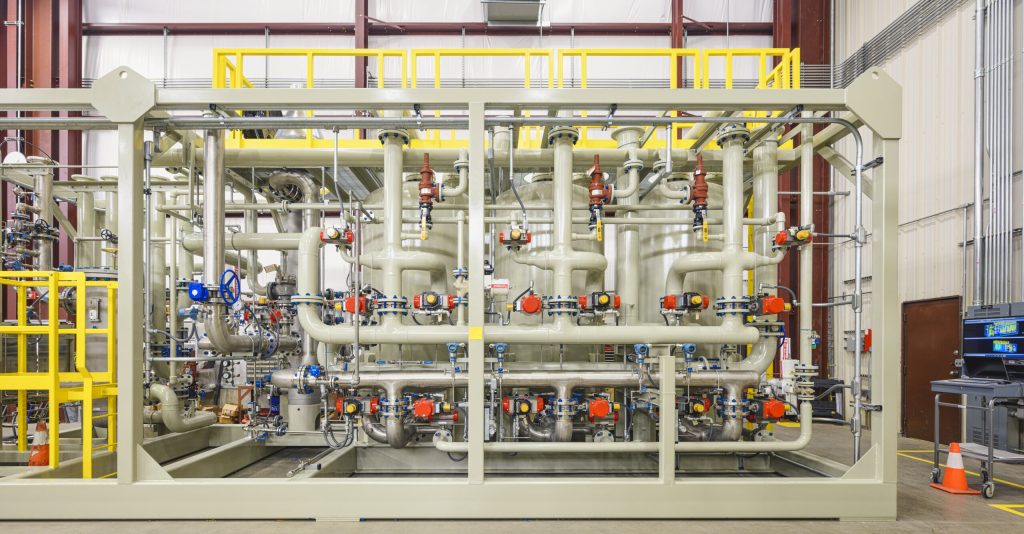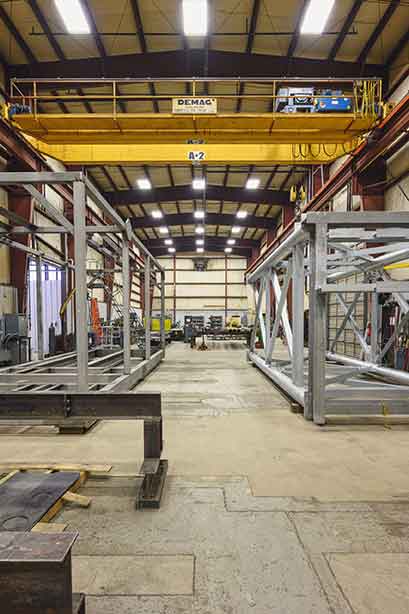 Whereas modular skids are generally built in a fragmented methodology, with different contractors building the frames, piping, tanks, etc., at M. Davis we offer an end-to-end, custom built, turnkey modular solution. Our trade experts and engineers provide innovative solutions that meet our customers' needs now and into the future. These modular skid process solutions optimize your operation and allow for maximum efficiency and time savings. 
"Every project is like pulling on a string – the more you pull on it, the more you find, the deeper it goes. One of the things that helps with that is partnering with someone like M. Davis who helps us with that respect. The people at M. Davis do not treat you like a customer, they treat you like a partner." – Tom Kappelmeier, Former Manager, Engineered Systems, Air Liquide Advanced Separations
M.Davis is transforming the construction, manufacturing, and maintenance of facilities. We work with innovative clients at all stages of their technology and continue to explore partnerships in the water and renewable energy industries. We proudly help clients bring their pilot technologies to commercialization.
Our partnerships with industry trade organizations like RAPID and NIIMBL enable us to continually monitor evolving technologies for smaller, cleaner, safer, and more energy-efficient systems and processes. At M.Davis, we leverage our knowledge and expertise to influence environmental sustainability for the next generation of industrial construction, fabrication, and maintenance.
Our specialized experience at all levels of the process will continue to drive ingenuity and greater environmental consciousness over the next 150 years.
Ready to speak with our experts?