Handling Each Project with Craftsmanship, Character, and Commitment
Mechanical Construction Services and Project Solutions
When you call on M. Davis & Sons to be your mechanical contractor, your complex mechanical projects are handled with attention to detail, quality, and safety. With a focus on safety and impeccable workmanship, we drive projects in new construction, expansion, maintenance, and capital development. Each project is managed to your exact specifications, and our team works to ensure work is completed on-time, within budget, and according to all necessary quality and safety regulations.
Our qualified team of credentialed tradespeople, including pipefitters, riggers, and millwrights, create seamless, end-to-end solutions for meeting our clients' goals. No matter the scope of your project, you can call on M. Davis to be your 'One Source for All' contractor.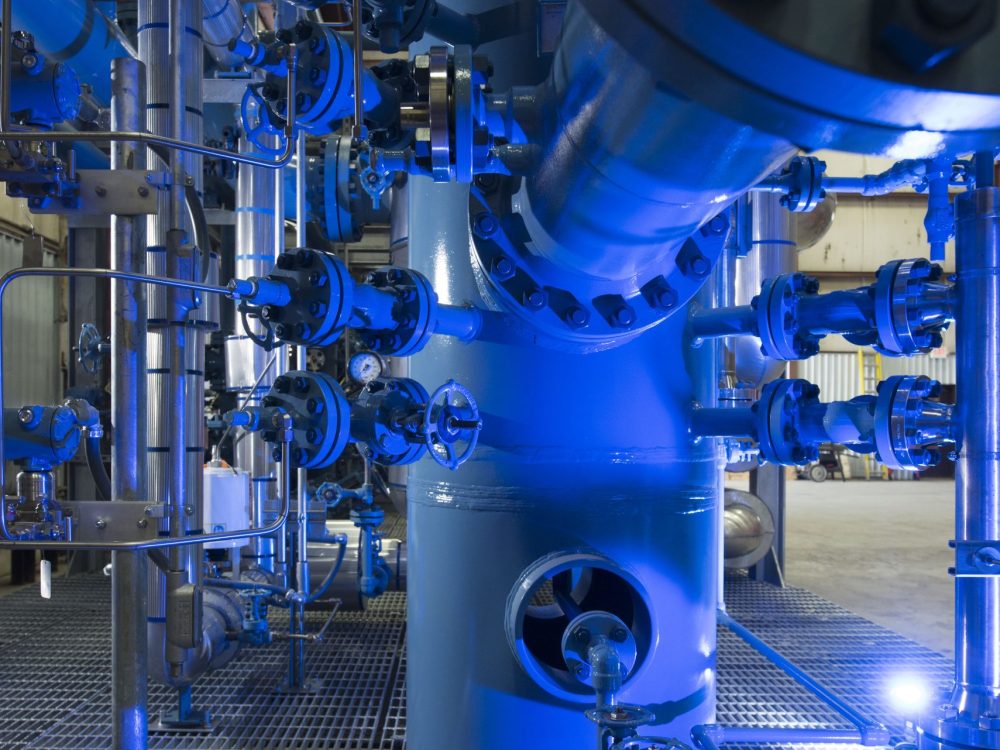 MECHANICAL CONTRACTING PROFICIENCIES
Our skilled pipefitters fabricate and install mechanical piping systems for both clean and industrial accounts. 
They are proficient in field layout and installation, have 3D modelling capability, and are certified in LOKRING Technology and Groovelock.
The M. Davis team has extensive rigging experience, ranging from minor hand-rigging projects with chain-falls, to major lifts accomplished by the largest cranes on the East Coast.
Rigging plans are provided for all projects and approved by our in-house rigging champion. We maintain an extensive inventory of rigging equipment and can provide custom-built rigging gear approved by a professional engineer and load tested per OSHA. Our riggers and crane operators are all licensed and certified by the National Commission for the Certification of Crane Operators (NCCCO), so you can be confident they can move all equipment safely.
When you need machinery moved, installed, or repaired, our craftsmen have millwrighting down to a science. 
Each job is handled with precision and minimal disruption to your operations. Our millwrights are specially trained on alignments, bearings, belts, and other aspects of this critical work including the installation and maintenance of equipment, and turnkey construction projects.
Boiler malfunctions bring operations to a halt, causing expensive downtime and unnecessary spending. 
The M. Davis & Sons team provides proactive boiler inspections and maintenance services to prevent these losses and keep boilers and facilities running as expected. Our team of boiler repair technicians are certified by the American Society of Mechanical Engineers (ASME), so you always get the best diagnostics and 24/7 service. We are equipped to provide troubleshooting, diagnostics, and repair, along with annual boiler cleaning and tuning as preventative measures. We can also install new boilers as part of our extensive offering of equipment installation services.
Our process piping experts fabricate, install, maintain, and repair your system.
We comply with Current Good Manufacturing Practices (cGMP), FDA, industry, and OSHA regulations – without shutting down your plant for expensive and lengthy periods. Our team can troubleshoot, test lines, and perform expert emergency repairs to your exact specifications.
M. Davis has the qualified manpower to manage any equipment installation in industrial, energy, utility, and FDA-regulated settings.
We can also manage equipment installation for building services in commercial and industrial properties. Our crews are credentialed to perform equipment installations in hazardous environments as well. We offer the maintenance of your factory equipment to ensure proper operation, and to provide modifications tailored to the specifications of your environment and use.
The breakdown of industrial plumbing systems can cause operation malfunctions and costly downtime. 
At M. Davis & Sons, we provide complete industrial plumbing services to our customers. Our team works with you from design to installation—and any subsequent maintenance—with the highest regard for industrial safety and building code standards. Our services include the repair and installation of pumps, valves, and pipes. We also perform upgrades, emergency services, scheduled maintenance, and annual inspections to keep your critical plumbing systems running smoothly.
The mechanical tradespeople at M. Davis & Sons offer custom fabrication and installation of sheet metal. 
Our capabilities include fabrication and installations for industrial manufacturing facilities, lab spaces, and clean rooms. Our qualified technicians are also experienced in performing repairs quickly and accurately to keep your systems running smoothly and efficiently. Sheet metal is fabricated to your exact specifications, and we also provide custom ductwork and installation to service your facility.
The M. Davis certified welders are qualified through our ASME Code Shop. 
Our certified welding inspectors ensure that everything we fabricate, install, and maintain has our quality assurance guarantee. Within our extensive welding program, we have more than 100 AME, API, and AWS procedures and 80 multi-craft welders with accreditations to weld in a multitude of processes with a variety of materials. Our best-in-class welders can perform in unusual circumstances and environments while meeting all quality control qualifications.
Fueling the pipeline of skilled tradespeople and engineers is a core mission of our company. We attract raw talent through our apprenticeship program and continuously invest in our people with advanced training and continuing education courses. Our mechanical tradespeople are qualified through the National Center for Construction Education & Research (NCCER). We offer in-house craft training including ASME and API welding classes and rigging programs. As part of the Delaware Apprenticeship program, we provide an avenue for our team members to gain trade knowledge and experience.
With our utmost attention to quality and safety, coupled with rigorous and ongoing training, you can have confidence in the M. Davis team for all your mechanical project needs.
What can we put together for you?